VinØ 2020 - Annual Report
The VinØ ('vin zero') program is Tasmania's best management practice system, designed and tailored to assist the island's producers monitor, improve, benchmark and communicate their viticultural and winery practices.
It is a significant and important initiative, providing a user-friendly management and reporting tool. Program members each receive a detailed annual benchmarking report, which identifies areas of their business where they are performing well against best practice in addition to areas requiring improvement. It also allows them to assess their performance alongside the overall average of fellow participants.
Below is the annual report for the 2020 season, which included two new modules, Biosecurity and Winery practices.
Biosecurity practices were previously included in the 2019 VinØ Program but now have a dedicated module. It has been in recognition of the importance of this topic and in order to reduce the risks of an invasive species incursion in Tasmania.
The Winery module focusing on winery management practices, takes the program beyond the vineyard for the first time in 2020. This module aligns with the national Freshcare Winery Standards and has been reviewed by the Wine Tasmania Technical Committee to better suit Tasmanian conditions and business models.
Wine Tasmania congratulates the 2020 VinØ Champion - Pooley Wines, and the 2020 VinØ Most Improved - Cambridge Valley Vineyard!

The data...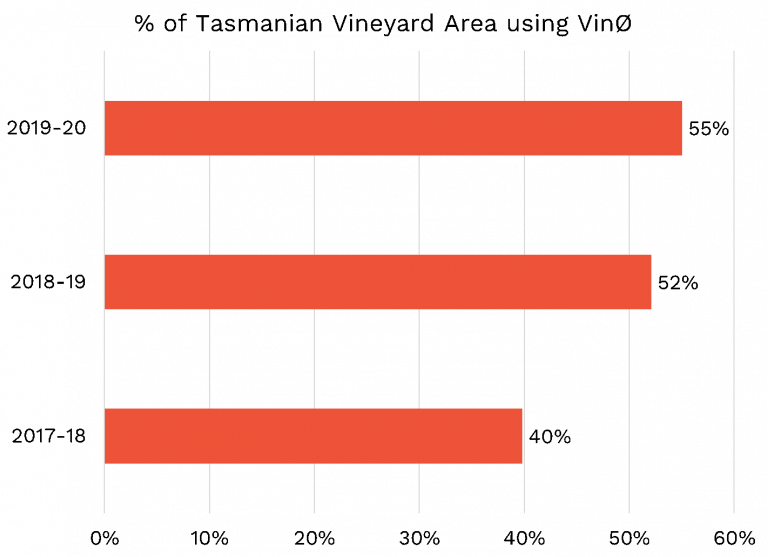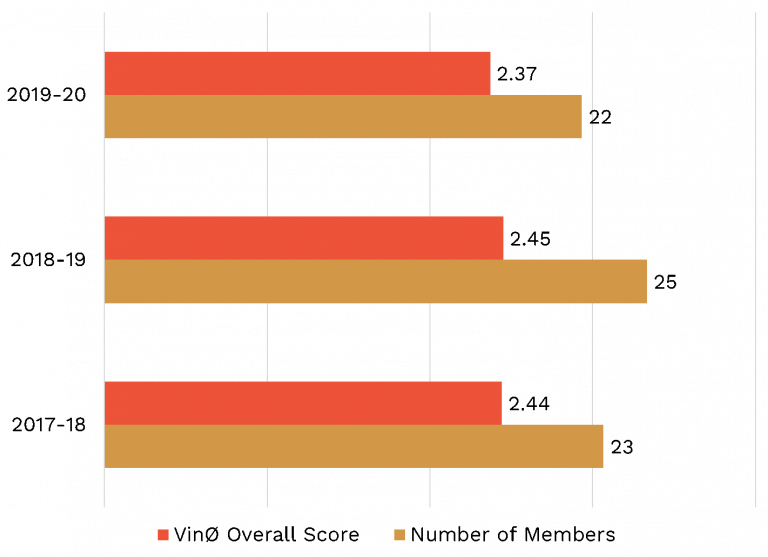 Module Results
The program is divided into eight modules:
1. Soil Health, Nutrition and Fertiliser Management
2. Pest and Disease Management
3. Biodiversity Management
4. Water Management
5. Waste Management
6. Social (Work, Community, and Winery Relations)
7. Biosecurity
8. Winery management

Members are performing well against most of the modules, with Biodiversity Management and Winery Management providing an opportunity for improvement. These will be a focus of extension and education activities by Wine Tasmania in 2020/21.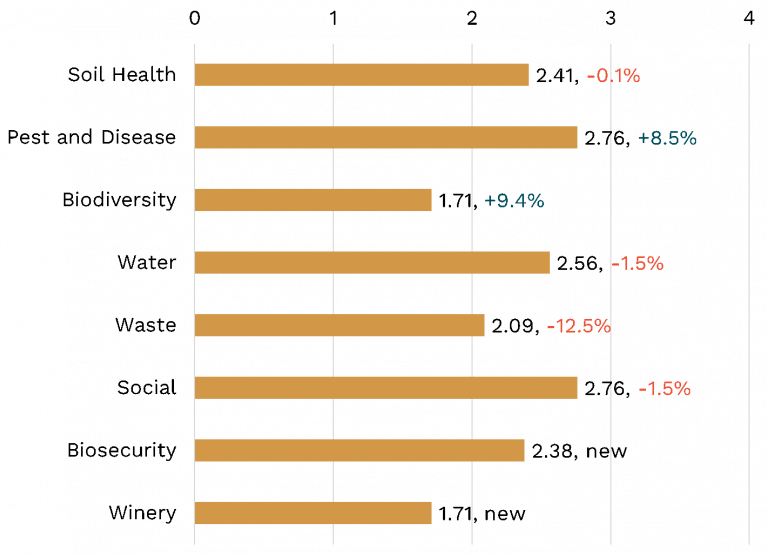 Member Results
18% of the participants scored in the highest grades, a similar result to the previous season, with fewer members scoring less than 2. This reflects an overall improvement in member practices.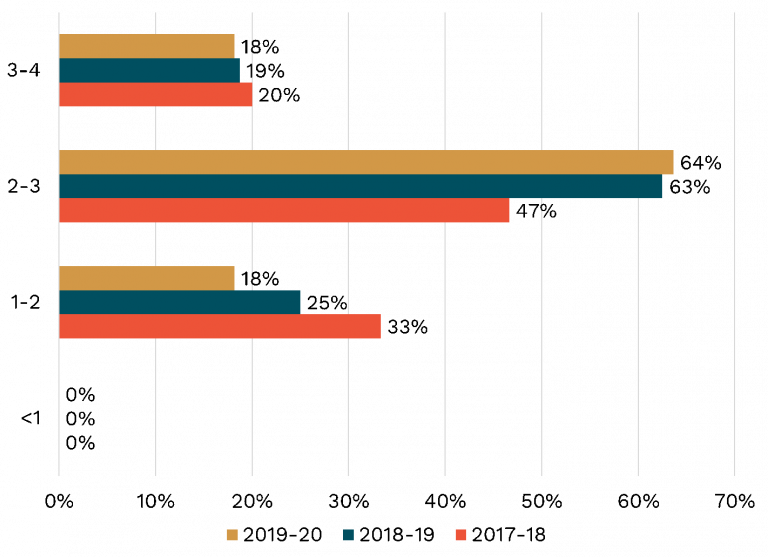 Areas in which Tasmanian wine producers are performing well:
Soil Health - Weed Control Strategy
Pests - Integrated Pest Management (IPM)
Pests - Resistance Management
Pests - Grapevine Agrochemical Application Records
Pests - Planting Material
Water - Water Security
Water - Irrigation System
Water - Irrigation System Maintenance
Waste - Waste Agrochemical Solutions
People - Contractor Selection
People - Remuneration
People - Grape Composition Testing
People - Contracts
People - Grape Grading
Biosecurity - Biosecurity Vineyard Inspections
Winery - Purchasing And Delivery Of Hazardous Substances
Areas showing an opportunity for improvement:
Soil Health - Organic Matter
Soil Health - Fertiliser And Soil Additive Handling And Storage Area
Biodiversity - Site Audit
Biodiversity - Biodiversity Action Plan
Biodiversity - Enhancement Of Biodiversity In Our Region
Biodiversity - Biodiversity Monitoring
Water - Water Management Strategy
Water - Irrigation Records
Waste - Waste Management Planning, Monitoring And Recording
Waste - Waste Management Training
Waste - Green Waste
Waste - Grape Marc
Waste - Waste Equipment
Waste - Paper, Cardboards, Non-Polypropylene Plastic And Metal
Waste - Polyethylene And Polypropylene Plastics
Waste - Carbon Emissions
Biosecurity - Biosecurity Links
Biosecurity - Sign In Procedure
Biosecurity - Personnel Disinfestation
Winery - Environmental Action Planning
Winery - Emergency Spill Response
Winery - Winery Water Management Program
Winery - Wastewater Management
Winery - Biodiversity Plan
Winery - Air
Winery - Energy
Winery - Fuel
Wine Tasmania acknowledges the Aboriginal people as the traditional owners of lutruwita (Tasmania), our island home. We pay our respects to the Tasmanian Aboriginal community, their Elders past, present and emerging, their unique cultural and spiritual relationships to the land, water and community.