Next Crop of Tassie Wine Leaders
The Tasmanian wine sector has welcomed 24 graduates of the Next Crop Tasmania 2023 leadership program.
The first of its kind offered to the Tasmanian wine sector, this program was delivered by Wine Tasmania in partnership with Tasmanian Leaders and with funding support from Wine Australia.
Participants represented wine businesses of all shapes and sizes, from Dunalley to Port Sorell and everywhere in between, with individuals from viticultural, winemaking, management, cellar door and marketing roles.
The program focused on leadership and management skills to benefit individual participants and their businesses, as well as to build capacity in the local wine community.
Paul Smart, Wine Tasmania's Viticulture & Winemaking Officer said Tasmanian wine businesses had great access to resources and workshops on technical, business, marketing and tourism topics, but leadership training had been identified as a major opportunity and need for the sector.
"The format delivered by Tasmanian Leaders was very flexible and practical, with participants able to shape the content and topics discussed to make sure it was highly relevant", he said.
Participant Ben Pearson from Swinging Gate Wines in the Tamar Valley said he had really enjoyed the program:
"Learning about different personality types was really valuable - being aware of how other people think, what you need to do and how to communicate to help them express themselves and get the best outcomes. It was also great to spend time working on the businesses rather than in the business, as it's easy to get caught up in the now."
Matt Dunbabin from Bangor Vineyard on the Tasman Peninsula said:
"The course provided very relevant and practical information to immediately apply in our small wine business. As a business employing quite a lot of people, the course has particularly helped in understanding, supporting and managing our staff."
Sierra Blair from Ghost Rock Wines on Tasmania's Cradle Coast said:
"I'm always looking to develop and improve as an employee and manager, and the course added aspects not covered in my technical winemaking training, particularly across behavioural science and psychology. I found the course very motivating and insightful, and it has encouraged me to look at ways I can contribute to impactful and positive change both within our business and the sector more broadly."
For further information:
Paul Smart, Viticulture & Winemaking Officer, Wine Tasmania - 0414 980 798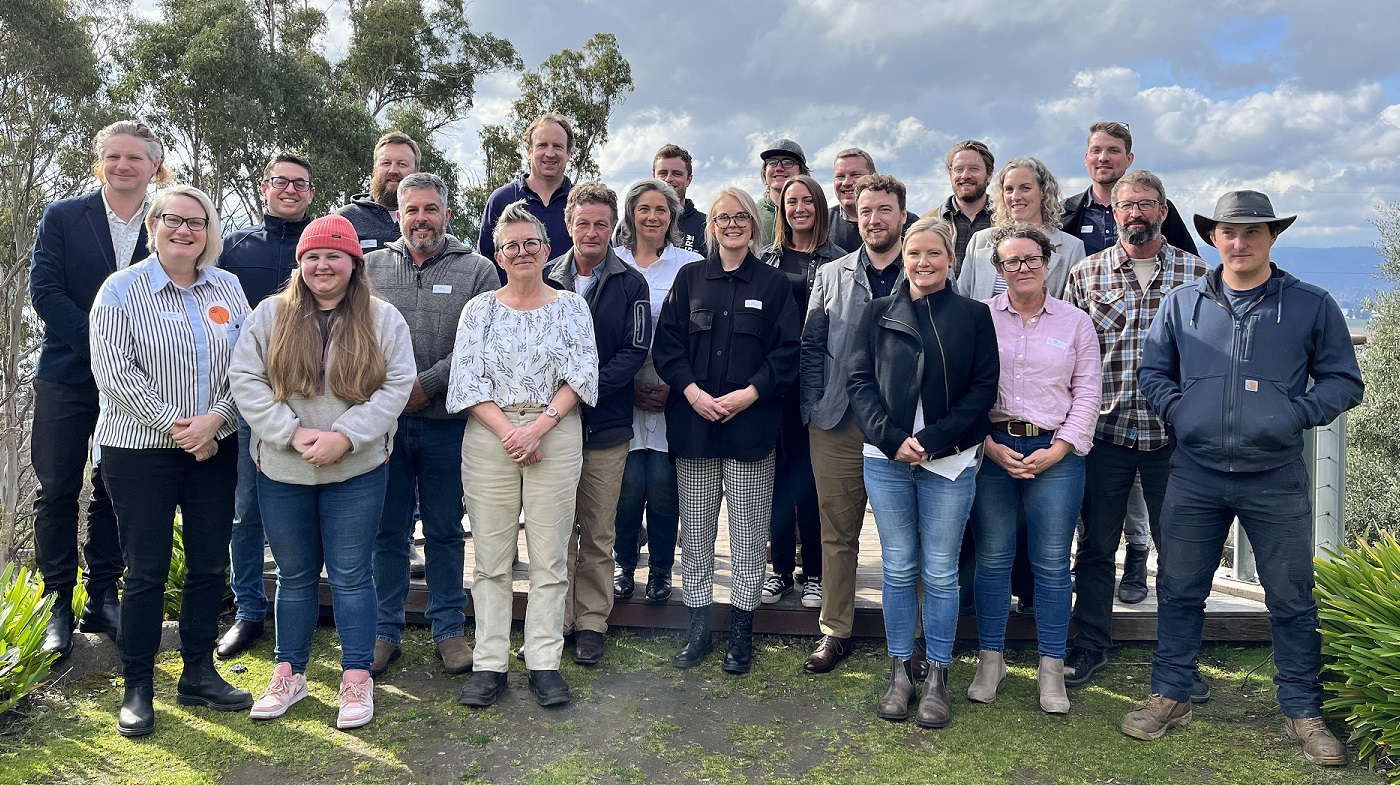 Next Crop Tasmania 2023 Program Participants

Abbie Hoskin (Bellebonne), Alex Travers (Craigie Knowe), Vanessa Dunbabin (Bangor Vineyard), Ben Pearson (Swinging Gate), Ben Pietsch (Brown Family Wine Group), Bryn Williams (Stargazer), Cameron Walker (Hill Smith Family Estates), Cecilia Hakansson (Moorilla & Domaine A), Cynthea Semmens (Marions), Frieda Henskens (Henskens Rankin), Hugh McCullough (Wellington & Wolfe), Izaak Perkins (Ghost Rock), Jamie Cowen (Tertini Wines), John Schuts (Derwent Estate), Karen Davis (Holm Oak), Kellie Graham (Josef Chromy), Matt Dunbabin (Bangor Vineyard), Mitchell Kenney (Dalness Farming), Nick Glaetzer (Glaetzer-Dixon), Penny Jones (Bay of Fires), Rafe Nottage (Bream Creek), Robert Stewart (Small Wonder), Sierra Blair (Ghost Rock) and Tess Astbury (Wine Tasmania). (Not pictured above - Cam Walker, Vanessa Dunbabin and Cecilia Hakansson).
About the Next Crop Program
This program was supported by Wine Australia with levies from Australia's grapegrowers and winemakers and matching funds from the Australian Government. Next Crop is an annual program that facilitates regionally-focused leadership programs. Two wine regions per year are selected through a competitive application process to deliver a program that aims to keep the future generation engaged and committed to their region and careers in the sector. www.wineaustralia.com/research_and_innovation/in-practice/people-development/next-crop